Test Center
The Original Mattress Factory is committed to making quality products that are built right…and built to last. That's why we're continually testing new products and conducting research on the latest technology. We opened our own Test Center, which is located within our Cleveland, OH Factory, in December 2016. It is comprised of three testing stations that are used to evaluate our current products, competitive products, new design ideas and component materials.
We conduct all tests in accordance with ASTM International standards and evaluate the following key measures of performance both before and after testing:
Surface Profile
Product Appearance / Condition
Change in Surface Profile (e.g. Body Impression / Dimple)
Firmness
Change in Firmness (e.g. Consistency in Feel)
Component Evaluation Through Teardown Inspection
CORNELL TESTER
The Cornell Tester is designed to simulate approximately 10 years of normal use on a mattress set. It uses a dual sphere shaped ram-head to apply a 230 pound load to a set position at the bottom of the stroke. The test, which runs for approximately 10½ - 11 hours, consists of 100,000 cycles at a speed of 160 strokes per minute. The Cornell Test is an interactive test that includes 8 different stages of calibration and measurements.
MATTRESS ROLLATOR
The Mattress Rollator is also designed to simulate approximately 10 years of normal use on a mattress set. During testing, a 240 pound Hexagonal Shaped Roller passes back and forth across the width of the mattress set 100,000 times at a pre-set speed. The test runs non-stop for approximately 3½ - 4 days. Upon completion, the surface condition and profile of the mattress set are evaluated and compared to results taken before the test. Additional measurements are taken again after a 24 hour recovery period.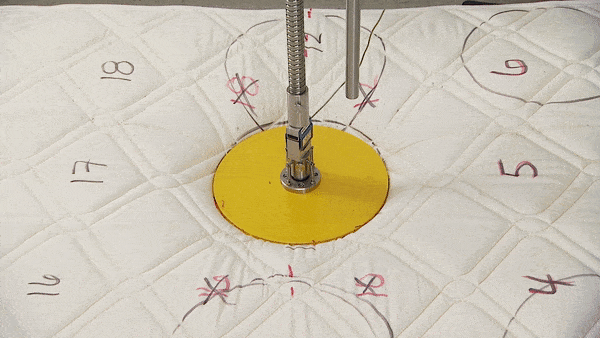 FOAM COMPRESSION TESTER
The Foam Compression Tester is designed to evaluate the height and firmness of a mattress or mattress set. It measures Indentation Load Deflection (ILD) between 0 and 4 inches in ½" increments, using a 13.5" circular pattern. These measurements represent the firmness or feel of the product and are taken at five different locations on the mattress.
FR COMPLIANCE TESTING
Mattress Flammability is an important issue in the mattress industry today. At The Original Mattress Factory, we use independent test laboratories to assist with our flammability compliance testing. All of our products comply with current federal and industry standards regarding this issue.