Buying a Mattress:
Durability
People often ask how long a mattress will last. The industry and the Better Sleep Council have changed their recommendation from 8-10 years to replacing your mattress every 5-7 years. It's difficult to say what is the more accurate guideline because the life of a mattress is influenced by several factors:
the quality of the materials used in the product
whether a mattress is padded on one side or two
the weight of the person(s) sleeping on the mattress
whether the person is a side/back/stomach sleeper
how much the person moves while sleeping
whether a box spring is used and the type of box spring (e.g. working modules or straight wire foundation).
At The Original Mattress Factory, we primarily make two-sided mattresses. This gives you the option to flip your mattress, helping to extend the comfort life of your mattress by sharing the wear over two sides. We also use modules that bend and flex in our box springs to provide better shock absorption. These construction elements are designed to offer greater durability than what is commonly found in the marketplace today.
Mattress Construction:
Mattresses can be constructed in a few different ways. In terms of basic construction, they can either be one-sided or two-sided. A one-sided mattress only has padding on the top side and cannot be flipped over. A two-sided mattress, on the other hand, is padded equally on both sides and can be flipped to ensure maximum comfort and longevity.
As far as the padding design is concerned, mattresses can have a tight top, pillow top or Eurotop as shown in the drawings below. In a traditional "tight top" mattress, the top upholstery layer is pulled down and attached to the mattress with one tape edge. In a pillow top or Eurotop, the top upholstery layer is attached as a separate "floating" layer.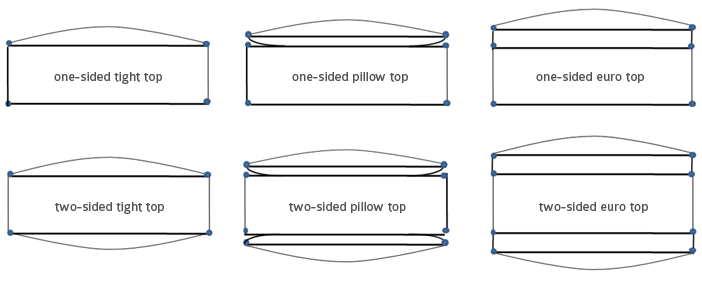 Box Spring
The purpose of a box spring is to provide support and act as a shock absorber for the mattress. It should therefore have some "give" to it in order to adequately relieve pressure from the mattress. A poor box spring can be too soft, too firm or inconsistent in support. A good box spring will consist of base frame, insulator pad, fabric cover and shock absorbing support elements, as shown below:

When it comes to box springs there are four different types of support elements:
Module:
Shock absorbing modules absorb pressure, reduce wire fatigue and side-to-side sway and increase durability. This design provides a good balance between shock absorption and stability.
Coil:
Shock absorbing cone-shaped coils deliver a softer feel than a modular style box spring and are typically used by hotels due to their ability to resist abuse. The design results in more side-to-side sway and motion than a modular box spring.
Semi-Flex:
Zero deflection straight wire pre-welded cage with no shock absorbing characteristics. The Semi-Flex foundation was originally developed by manufacturers to compete against low cost wood platform foundations found in low end products. Today, this is used by most major manufacturers in products of all quality levels.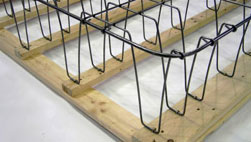 Platform:
Low cost, zero deflection platform that is typically comprised of a wooden box covered with cardboard and fabric.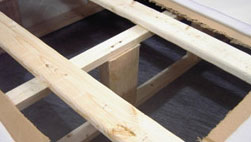 Some additional tips when thinking about the durability of your mattress:
Better quality materials combined with a two-sided construction will enable the mattress to stay comfortable for a longer period of time.
Mattress warranties have little to do with the actual durability of the sleep set. Warranties only cover actual product defects, NOT the gradual loss of comfort or support due to use over time.